THE BEST ONLINE EDUCATION WHICH WILL
Teach YOU How to Create Beautiful Wreaths & Sell Them Online!
~ Learn to Make Money Doing What You Love ~
NANCY HAS HELPED THOUSANDS OF WOMEN GROW THE BUSINESS OF THEIR DREAMS! BEGIN YOUR JOURNEY WITH HER TODAY!
As a Member of Our Community, You Will Get:
**TRAINING** Learn to make & sell wreaths using Etsy & Facebook - Value $1,395.00

***BONUS*** Online Access to My Secret Vendors - Value $197.00

***BONUS*** Online access to Nancy's Entire Video Library - Value $1,210.00

***BONUS*** Online access to Etsy Intensives - Value $334.00

***DAILY ACCESS*** to Nancy & her experts in a Facebook Group - $975.00

Click Below To Join Risk Free For Just $19.97/Month
Click here to join for
just $19.97 per month:
Click here to join for $199.70 for a
whole year and get 2 months FREE:
Want to
learn to grow your own profitable business

S

elling handmade designs online?

You're definitely in the right community!
For over three decades, I quietly cleared THOUSANDS of dollars selling high-end wreaths online.
These wreaths were first sold on eBay, then my website, and Etsy.
Daily UPS pickups shipped thousands of my wreaths all over the world, including many to celebrities.
I cleared AMAZING PROFITS! My wreaths were often the most expensive and highest quality you could find anywhere on the Internet! Women bought them in droves…even paying ANY price to win the bid when I sold on eBay. Why was this??

Sure, it was because of my design, style and quality construction. That made my reputation what it is today. But it was also something else – I knew how to promote and market my products bringing potential buyers to me through many different online avenues.

You might think: "But you're talking about wreaths and I am a jewelry designer or I crochet and knit baby booties & hats, or I paint greeting cards… etc."
It doesn't matter! Yes, I sold wreaths online, but I have sold many other products as well. What I want to teach you applies to any artisan or crafter using any medium. How to sell online to bring in more income for you and your family is done with the same steps and systems I have perfected and used over and over for many years. These tried/true and proven systems DO work! I want to share them with YOU! In doing so, I take such joy in the fact that I can play a part in your success!
I have now filmed and sold thousands of instructional videos showing my students how to make exquisite wreaths to sell online. As an Inner Circle member, you will have online access to those SAME videos that I still sell today! No matter what you design, you can do what I've done! By taking advantage of my 35+ years of experience, you can start your business at a place I only could have dreamed of when I began. I have learned through experience as well as trial and error. And, I have every confidence in you and your abilities with the courses, videos, and training I'm offering in my Inner Circle!
And, I have written and published 6 eBooks on how to make wreaths and where to find the best suppliers. You can find published and Kindle versions of my books on Amazon. My "Sourcing Power" Amazon Kindle Book broke records as it flew to the top of the charts in FIVE categories in only 2 days. My latest book is about my own story: "My Journey Through Fibromyalgia: Rumors, Ravages & the Rescue". It is coming out soon!
Now
I Want to Share the Knowledge I've Gained

From Over 30 Years of Experience with YOU
as We Grow a Powerful Online Community!
In the last 16 years, I have loved training and coaching artisans like you as you set up your online business where you can sell your creations!
I believe that I have been put here for a reason!  And that reason is that God is leading me to offer my time and expertise in order that you can achieve your goals and dreams just as I have.  So, my Inner Circle, a community of artisans gives you a place where you can gather at any time - day or night - to share, ask questions and encourage each other.  I really want to teach you how to design beautiful, unique, high-end wreaths with nice, but not so expensive materials. It is important to me that you are able to earn a nice income for the time you put into your creations!
I'd Like to Introduce You to
Nancy's

Inner

Circle
Our Exciting Online Community!
Here's a sample of what you'll get inside:
An Easy to Use Experience
Best of Nancy went through some major changes to better meet your needs. To do this, we gave you a website filled with all I have in an easy to use, Pinterest style format. You can find what you need by clicking on an graphic or image! A new name reflecting what this community is all about was next.  You voted, saying "Nancy's Inner Circle" made you feel special and important.  You are here - Welcome!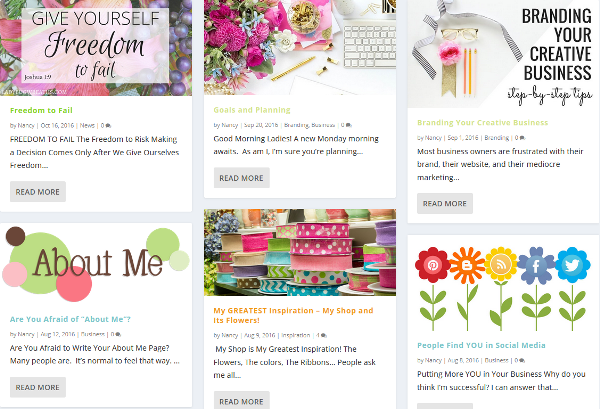 Pinterest style visual images are clickable links leading you to the topic you're searching for - modules, reports, videos & training. We are offering all you need in this brand new and exciting format.  Perfect your wreath-making hobby; grow the crafting business of your dreams; bring in the highest level of profit possible through our training!
Free 24/7 Viewing Access to Every Training Video and eBook
You heard it right! Every instructional video or eBook I have for sell is now available to you in online format as long as you are a member of my Inner Circle. This FREE, easy access is available all on one page - 7 days a week - 24 hours a day.  Just open the page and play any video... play them over and over if you desire... or read any eBook any time you want!
A Warm Facebook Community of Artisans Supporting Each Other
Our private Facebook group is where the magic happens! Discussions on important topics keeps you on the track to success! Wreath critiques, and Q&A's encourage as you interact with me and my team. Support from your peers as they celebrate with your successes is awesome and exciting.
Click Below To Join Risk Free
Click here to join for
just $19.97 per month:
Click here to join for $199.70 for a
whole year and get 2 months FREE:
These Are the Types of Discussions We
Currently Have on a Daily Basis
How to deal with shipping problems
The best places for you to sell handmade online
The importance of keeping in touch with customers through a list
How to take advantage of social media to grow your business
How to get your customers to know, like, and trust YOU
Here's What
Real

Nancy's Inner Circle
Members Are Saying
"I have learned so much about running my business from you and your Best of Nancy (now Inner Circle group.)Nancy, you're one of the sweetest, most Godly, giving women I have ever known!  You have become a wonderful mentor to me through Best of Nancy and the Facebook group. I have learned so much about how to run my wreath business & I'm also learning about floral wreaths and where to buy my supplies. I am excited about putting to use all the knowledge and information I have gathered from her awesome videos."
"I found you on YouTube, Nancy, and after watching your video on making a double bow for a Christmas Wreath, I was hooked! Your videos were so inspiring; I had to join Best of Nancy and your Facebook group.  Nancy, you have inspired me to keep on and grow the work I love. And to others, take time to read Nancy's books, watch her videos, keep on growing! My husband is proud of my work and my business, especially when he discovered I was operating in the black. I praise God for you -- my mentor in so many ways. I just want to say thank you!"
"I would never have known what to do in order to start selling my horse wreaths if I hadn't discovered Nancy. She has helped me from day 1 and I can't thank her enough for her teaching. I thank her so much for giving me the courage and wherewithal to start my business in 2013. I love you Nancy! You are my hero and my mentor and a mighty witness for Christ!! God bless you and heal you completely!"
"I found Nancy on YouTube when I was trying to learn to make a bow. She was so talented and so knowledgeable, and such a wonderful teacher, yet she makes you feel that are sitting and having a cup of coffee with a friend. Through Nancy's videos I learned so much! Then I joined her Facebook group. There are hundreds of us, and Nancy supports and helps every one of us in our craft. She is an expert in selling online! She's an invaluable asset to all of us."
"I just renewed my membership in Best of Nancy! I am so excited to once again have access to so much training and education from this site.  There is so much to learn and experience even though I have only been in business for 2 years now.  What a fabulous starting point!  I'm looking forward to growing my business this year"
"I am SO glad that I joined Best of Nancy!" There is an abundance of information to help us grow our businesses and believe me... I use it.  It is so affordable too.  I love having access to all this information to review over and over!  We all love it here so much - everyone cares about each other.  So thankful for such a peaceful, yet fun and helpful group!"
Click Below to Join Nancy's Inner Circle
Click here to join for
just $19.97 per month:
Click here to join for $199.70 for a
whole year and get 2 months FREE:
You Get All This and More in Our
Online Community


For Just $19.97
per Month
We've been advised to charge at least $197/month for this community because of all we're offering.
Am I doing that? Absolutely NOT – Our community will encourage you when you need it, educate you about the industry, and help you earn more money doing what you love.
There is so much value in being part of a group of people who share a common love and who genuinely enjoy helping each other succeed in meeting their goals. That's what we do in our online community.
And one more thing you should know:

Your Enrollment is

100%

Risk-Free! You can cancel at any time!

I am so confident that you will absolutely love Nancy's Inner Circle that I am offering a full 7-Day, no questions asked, money-back guarantee… We take all the risk so you don't have to… plus if you choose to join our community you can cancel at any time afterwards!
YES I Want to Join Your Community
YES, Nancy! I want to learn from the world's foremost authority on selling handmade products online!
NOTE: As soon as you join, you will have immediate access to the "Premium Member Content" pages. Within 24 hours, you'll receive access to our private Facebook group. 
If you join on the 4th, your membership will go until the 4th of the following month. At that time, your payment will be renewed in the program you selected unless a cancellation is made. If a cancellation is made within 3 business days of an automated billing, a refund may be issued... however, no refunds shall be done after the 3 business days of the charge date.
You are locking in This Price!  Your Monthly Price Will
NEVER Go Up Unless you Cancel & Rejoin at a Later Date!
I want access to you and all the training videos, PDFs, and modules you offer.
I understand that you make NO promises or guarantees that I will accomplish any specific result. I realize that my efforts are unique to me, and my results may vary from those shown or implied.
However, I also know that if I'm not completely satisfied, I can cancel my membership at any time.
Regular Price: $49.97 /month
Now Just $19.97/month
Get Started Now for Just $19.97/Month, OR Pay Just $199.70/Year and Get 2 Months FREE!
Click a Blue Button Below.
Click here to join for
just $19.97 per month:
Click here to join for $199.70 for a
whole year and get 2 months FREE:
What if You Don't Follow Your Dreams?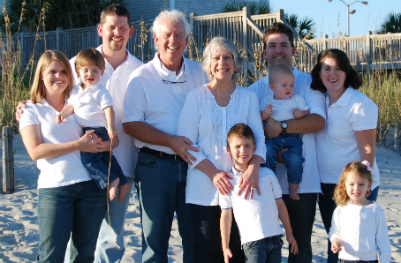 I certainly didn't think I had a chance of reaching my own dreams.  I didn't think my body would let me, so why try? 

I knew God had given me a gift but never in a million years did I believe that gift could lead me to where I am right now.  It is such an awesome feeling!  I want that for YOU!
Do you have a desire in your heart that you are afraid to follow? 
What will happen if you don't succeed? 
Or, better yet... what will happen if you don't even try?
That is not a place I want you to be.
I want you to reach for dreams that you dare to even imagine!  God has planted a seed that can blossom into something awesome, beautiful and breathtaking!
What did I have to loose? Absolutely nothing - and I gained so much!  Let's work together to help you reach out for a goal or a dream that really CAN come true!
Step out!  Take a chance!  Dare to dream!  Don't end up with unfulfilled dreams and what if's!
Click the Button Below and Join
Risk FREE for a 7-Day Trial
Click here to join for
just $19.97 per month:
Click here to join for $199.70 for a
whole year and get 2 months FREE:
Yours truly,
Nancy Alexander
P.S. I can't wait to get to know you! Thank you so much for stopping by! P.P.S. Don't forget to introduce yourself when you join us in the Facebook Group
Frequently Asked Questions & Answers
How can I keep shipping costs down?
You need to compare UPS, USPS, and FedEx. Actually shipping costs are lower with different carriers in different part of the country. Then set up an account with the lowest carrier – get even lower shipping costs by printing out your labels from home.
Where can I find good supplies that are reasonably priced to use in my designs?
You can search online for lower priced retailers and wholesalers. However, we have done the work for you when we created My Secret Vendors! Why even just one order can pay for the cost of the book.
What are the best places to find shipping boxes?
Staples is an awesome resource for boxes and they will deliver them right to your local store for pick up. Uline is a good resource, but order when they offer free shipping. Also, Home depot has good, sturdy boxes.
How do I know what to price my own work?
There are many things you need to consider which we discuss at length inside the Inner Circle, but a good rule of thumb is:
Cost of your supplies X 2, include shipping material and labor.
Nancy stresses all the time how photos sell your product. Well, they really do! We have several videos on taking photos with the use of lighting and a light (non-distracting) background. Next, edit them in a program which can crop – lighten the background and the darker parts of your photo. You'll see an immediate difference.
What is the best size ribbon to use in a wreath?
Nancy likes to use two ribbons together in her wreaths. Sometimes, you can mix #9 (1 1/2), and #40 (2 1/2) together. Other times it looks great to mix the 2 widths together. If you use #9, you would require more loops in your bow for a nice full one. When using #40 by itself, you can add fewer loops since the wider ribbon fills up your space more.
Where is the best place to sell my wreaths?
We discuss this often in the Inner Circle, but basically, when selling online Etsy is your best choice, and we have all the training you need to set up your Etsy shop ready to sell and bring in more profit for you.
Click the Blue Button Below and Join
Risk FREE for a 7-Day Trial
Click here to join for
just $19.97 per month:
Click here to join for $199.70 for a
whole year and get 2 months FREE: