Let Me Teach You To Make Your Own Wreath
We have been talking about inspiration for several weeks.  And, naturally, the next step after being inspired… is what??  Well, it is making your own wreath!  Would YOU like to learn how?  That is my goal — that is my dream — that is what I want more than anything…to teach as many of you who want to learn how to make beautiful wreaths!
I have been making wreaths for more years than I can count.  Do I know all the answers?  Absolutely Not!  Am I still learning?  Absolutely, resoundingly…"Yes"!  But, I do know A WHOLE LOT about wreath-making.  And, I want to teach YOU all that I know.  I know…some of you are probably thinking that I will not teach you everything — I will probably hold some of the "good stuff" back.
I MEAN EVERYTHING — EVERY SINGLE THING
NO HOLDING BACK!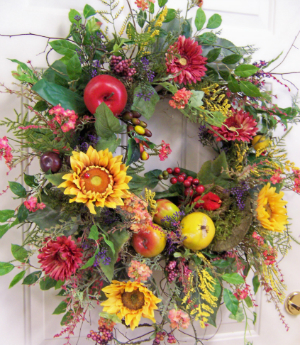 Still (after all these years), when I am making a wreath, I get SO excited, and SO happy when I gather up a fist full of flowers to design a wreath.  Sometimes, they just fit together so perfectly that I can hardly stand it!  I know that may sound just a little dramatic, but I TRULY feel that way!  There is joy and a sense of accomplishment making something this beautiful with your own two hands.  Won't you try it?
And… I LOVE making wreaths!  Just look at the extra large, full wreath above. I had so much fun making this one.  I love the colors.  I love the flowers.  I love mixing fruit with flowers, and then sprinkling the entire wreath with "critters"!  So much FUN!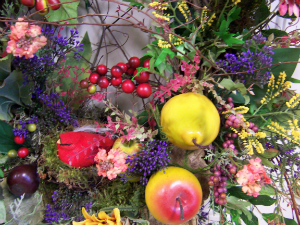 I plan on, and expect to, continually learn more and more about making wreaths until I can no longer stand and make one.  And, maybe when I can no longer stand up to make one, I'll just adjust my easel down, and make them sitting!
Do you know that my style of wreath-making is continually changing, also?  Yep, it is.  To me, that is so exciting.  Life (or wreath-making) would get awfully boring if we did everything the exact same way all of the time, now, wouldn't it?
I LOVE looking at the new materials that are coming out, such as the new, and trendy Deco Mesh.  I LOVE finding new types of flowers in all the new colors for each season.  And.. I TRULY LOVE critters!!!  Adding birds, nests, bumblebees, butterflies, ladybugs, frogs, and crickets can and so much whimsey to your creations.